The highlight of the English Premier League this weekend will see a clash between Tottenham and Manchester United, two teams looking to get back to winning ways after recent disappointing results.
Tottenham Hotspur team is only ninth in the Premiership's table; so low a position is for a team with such high potential and even higher expectations as Tottenham, is definitely a let-down. The Spurs do experience a crisis – they did not win any of the three last games; what's more, they conceded seven goals in only last two(!) matches, six of which they lost against Manchester City – and they did not score any, which is even worse. The leading Arsenal is now eight points ahead of them. Villas-Boas' future is hanging by a thread now. If he loses the game with United, he can probably prepare himself for leaving the White Hart Lane. The Europe League's win against Tromso (2:0) did not improve his situation. His team plays poor, the defense players make mistakes, the strikers cannot find their way to the goal and the manager himself cannot find a right place for newly-arrived players like Lamela and Soldado. In the upcoming game against the other side from Manchester, Tottenham must show really good football if they do not want to thoroughly beaten by recently-solid Manchester United, who won during the week with Bayer (5:0) in the Champions League.
Probable lineups Tottenham (4-1-2-3): Lloris; Walker, Dawson, Chiriches, Vertonghen; Sandro; Dembélé, Paulinho; Lennon, Soldado, Lamela.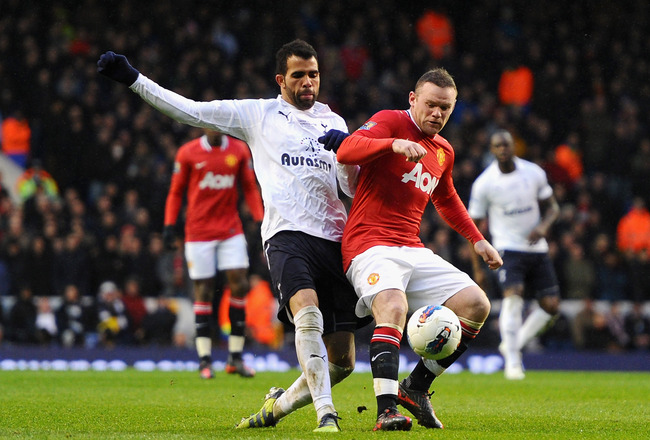 Manchester United after a disappointing start of the season climb up in the Premier League's table. Currently, after twelve games, they are sixth being seven points behind leading Arsenal. When it comes to Premiership, the Red Devils did not lose any of the last five matches – winning three of them and drawing the other two. Last week they let Cardiff take them points with a 2:2 draw against the Welsh, which means that Moyes' players still lack concentration and are prone to a slight chaos on the pitch. However, generally speaking United are playing better and better with each game, what they proved in the last Champions League's game against Bayer (5:0 victory). In that match the fans had a chance to admire the old, solid, tight and almost faultless Manchester. If United show the same at White Hart Lane, Tottenham will have to resign themselves to losing the game.
Probable lineups Manchester United (4-2-3-1): De Gea; Smalling, Vidic, Evans, Evra; Jones, Giggsi; Valencia, Kagawa, Young; Rooney.
Tottenham Hotspur – Manchester United
Premier League, 13. round
Date: Sunday, 1 December 2013 - 1:00 pm CET - 12:00 UK (BST)
Stadium: White Hart Lane, London, United Kingdom
Continue reading →