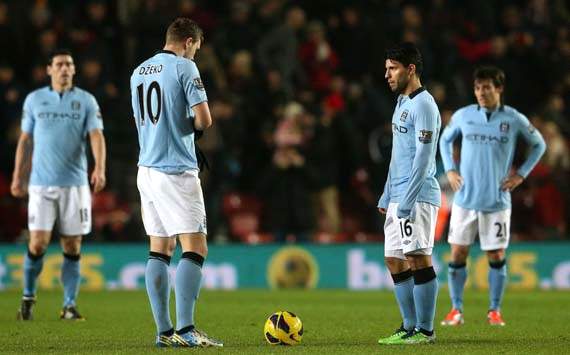 Southampton FC vs Manchester City
2013/2014 English Premier League, Round 15

On Saturday, 7 December 2013 at 10:00 (CET), Southampton FC will host Manchester City at St Marys Stadium, Southampton, United Kingdom for Round 15 of the 2013/2014 English Premier League.
Southampton flirted with the top 4 but a 3 game losing streak to Arsenal, Chelsea, and Aston Villa has dropped them back down to 8th. So naturally, greeting Manchester City this Saturday isn't a tantalizing proposition. The Saints had a bit of a soft schedule early on which perhaps explains their 2nd place ranking a few weeks ago. They're in the midst of a brutal stretch now, though, and until a trip to Sunderland January 18th, every game looks like they could lose. We'll find out a lot about this team and its qualities by the middle of January. Steer clear of the hosts this weekend until they show us more.
Manchester City team have been on an absolute tear, climbing the charts and back into the top 4, sitting 6 points adrift 1st place Arsenal. But away form, much like Chelsea, is the big question with the Citizens this campaign. Having lost to Cardiff City, Aston Villa, Chelsea, and Sunderland on the road, one wonders at the team's ability to stay focused for 90 minutes. Nonetheless, an on-fire Aguero and a seemingly always in-form Toure should be enough to bag a couple of goals. This may be a trap game for Man City with Bayern Munich coming up on Tuesday, and I'd be far more comfortable if it was a home game, but I still can't reason taking Southampton here.
Saturday, 7 December 2013 - 16:00 CET - 15:00 UK (BST)
Stadium: St Marys Stadium, Southampton, United Kingdom
Referee: Anthony Taylor