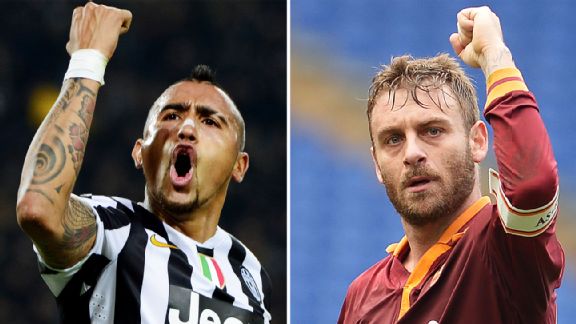 Juventus Arena Stadium, Torino, Italy
Sunday, 05 January 2014 - 20:45 CET - 2:45 PM EST

Juventus have won 15 of the 17 games in Serie A this season and did not lose a point in the last nine games. Even more impressive is the fact that they conceded just a single goal in this recent nine games. But the real strength of the team are not the back three in front of goalkeeper Buffon, Juventus have the best attack in Serie A. Though the record of the league leaders is very impressive, they had problems when they had to face top teams. In Champions League they could not beat Galatasaray twice, failed to progress to the next round, also could not defeat neither Inter nor Fiorentina in Serie A. Midfielder Andrea Pirlo will most probably return in time from his knee injury for the match on Sunday.

Juventus (3-5-2): Buffon; Barzagli, Bonucci, Chiellini; Lichtsteiner, Vidal, Pirlo, Pogba, Asamoah; Tevez, Llorente.
Roma made a sensational start to the season by winning their opening 10 games of the campaign, before being overtaken by the Bianconeri.
The Giallorossi are the only team unbeaten in the Serie A this season and this is their longest ever unbeaten streak. They are five points clear of Napoli in third. Roma's defence has been the crucial factor in Roma's excellent run this season. They have conceded just seven goals in their 17 matches.Before the Christmas break, Roma eased to a 4-0 victory over bottom club Catania. Ivory Coast winger Gervinho has been a joy to watch, revelling in the old-fashioned virtues of dribbling at speed at opponents.
Federico Balzaretti will not be called up for Sunday's match against Juventus, he joined the group but he will not be fit enough to play against Juventus. The 'Tridente' will be likely formed by Totti, Destro and Gervinho but also Ljaijc is in contention for a starting berth.
AS Roma (4-3-3):
De Sanctis; Maicon, Benatia, Castan, Dodò; Pjanic, De Rossi, Strootman; Gervinho, Totti, Destro.
Head-to-Head
Last meeting: 16 February 2013, Roma - Juventus 1:0
Wins Juventus: 75 - Wins Roma: 37
Draws: 48
Juventus vs AS Roma
Italy Serie A: Round 18
You can watch the match here: Link 1 , Link 2
[Live Scores]