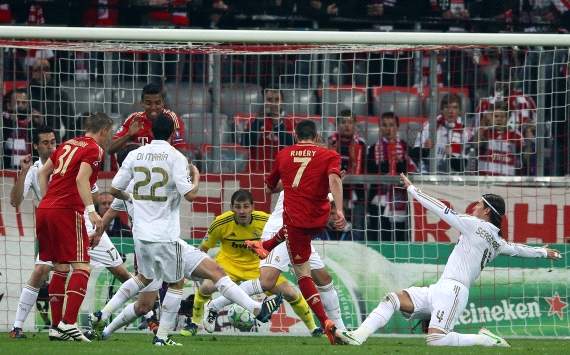 Bayern Munich vs Real Madrid
Competition: Champions League − 2013/2014 − Semi-finals (second leg)
Bayern Munich have a one goal deficit to overcome when they host Real Madrid in the second leg of their Champions League semi-final on Tuesday.
Title defender Bayern Munich were the dominant team in the first leg in Madrid last week, had 79 percent possession at half time, 15:3 corners at the end, but were not able to create any dangerous goal scoring opportunities. Coach Pep Guardiola had started without Champions League topscorer Thomas Müller, tried it with three defensive midfielders instead, therefore Munich's game lacked of creativity. The team seemed not fully focused, stood too far away from their opponents and had difficulties in the back. Also the remaining weak form of winger Franck Ribery is a real problem for them at present. On Tuesday however, we can expect a different Bayern Minjch side, they will be far more concentrated and resolute on home soil.
Real Madrid team surprised last week when played defensive tactics on the own ground. They stood in the back waiting for counter attacks. And they got their opportunities, made the 1:0 with the first chance in the 19th minute when Karim Benzema scored his first goal after a goalless month. Cristiano Ronaldo right afterwards and Gareth Bale in the second half had excellent chances to score another goal but missed. On the other side the often criticized defence stood very well, especially on the wings. We can expect Real to play similar tactics on Tuesday, hoping to score an away goal that would force Bayern Munich to score three times.

Probable lineups Bayern Munich: Neuer – Rafinha, Boateng, Dante, Alaba – Lahm, Schweinsteiger – Robben, T. Muller, Ribery – Mandzukic.
Probable lineups Real Madrid: Casillas – Carvajal, Pepe, S. Ramos, Marcelo – Xabi Alonso, Modric – Bale, do Maria, C.Ronaldo – Benzema (Isco).
Match date: Tuesday, 29 April 2014 - Kick Off Time: 20:45 GMT
Venue: Allianz Arena, Munich, Germany