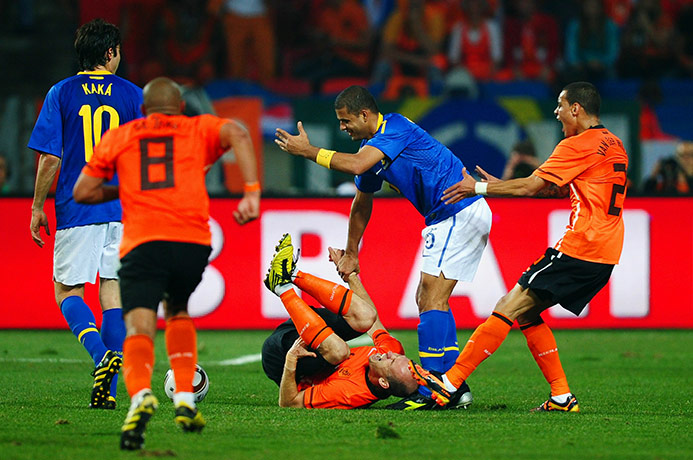 Brazil vs Netherlands - FIFA World Cup 2014 (Match For 3rd Place)
Match Date: Saturday, 12 July 2014 - Kick Off Time: 17:00 Local / 21:00 BST
Venue: Estadio Nacional Brasilia, Brasilia, Brazil
This match is probably one of these games that the Brazilian team never has wanted to play. Their only goal at the World Cup at home in 2014 was to win the title and to celebrate together with their fans. But after the dramatic defeat against the German team they know that their dream is over now. Without Neymar and their captain Thiago Silva they couldn't do anything to stop the Germans. Receiving five goals in the first half was quite historical. Their second half was slightly stronger, but Germany probably wasn't too motivated to give 100% anymore, after it was quite sure that the game was done. In another point of view this game against the Netherlands could be a blessing. They now have the chance to make reparation for their humiliation in the semi-final and to say thanks to their home crowd a last time, maybe with a win and the third place. It will be the 5 time to play against the Netherlands. Their last meeting 2010 ended with a 2:1 win for Oranje. In total there were 12 games against Holland. Both teams won three times and there were 5 draws. For Brazil it is the 4 third place game and they could win it already twice.
Everybody was expecting that Brazil will make it at least that far. But nobody really expected the Netherlands to reach the semi-finals. With a very young and inexperienced team it was probably manager Van Gaal who was the mastermind behind their success – and of course a fabulous performance by Arjen Robben and Van Persie. Their last game against Argentina in the semi-final was surprisingly defensive with their concentration on neutralizing the threat by Barcelona superstar and Argentinas captain: Messi. It was a rather poor game with few highlights. But what can you expect of a 0:0 draw after 120 minutes. At the penalty shoot-out Ron Vlaar had to make the first shoot and was the unlucky fellow who missed the first penalty. After two goals by Messi and Robben it was Sneijder who missed the next one. And that's almost the end of the story. At the end Argentina deserved to reach the final and was the luckier team in the shoot-out. Oranje now has the chance for the third place. In 1998 they played against Croatia in their last third place play off and lost with 1:3.
Probable lineups Brazil: Julio Cesar – Dani Alves, Thiago Silva, David Luiz, Marcelo – Luiz Gustavo, Ramires – Bernard, Oscar, Willian – Jo.
Probable lineups Netherlands: Cilessen – Janmaat, de Vrij, Vlaar – Kuijt, Wijnaldum, Blind – Snejider, Robben – Huntelaar.