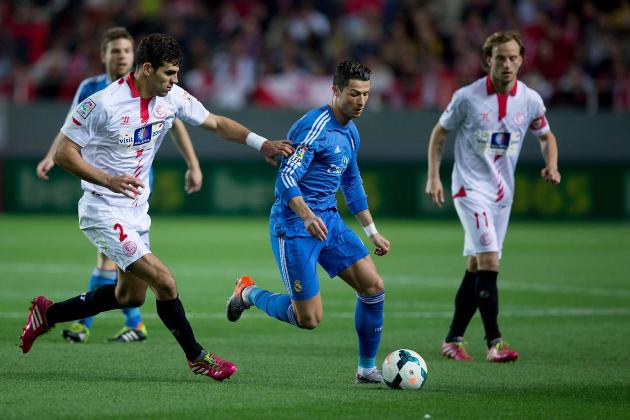 Real Madrid vs Sevilla
Competition: UEFA Super Cup
Match date: Tuesday, August 12, 2014
Kick Off Time: 19:45 BST - 18:45 GMT
Venue: Cardiff City Stadium, Cardiff, United Kingdom
Real Madrid team finally made it to win the much desired 10th title at the Champions League. La decima is theirs and with this win, they qualified for the UEFA Super Cup final 2014 in Cardiff. Another chance for another title for this prestigious club. They know how it feels like to win the Supercup, though only few players of the current team were there when it happened for the last time. In 2002, after a win against Bayer Leverkusen in the CL-Final it was Zidane, Carlos and some others who raised the trophy in the end. In total it is Real Madrids fourth time in the Super cup final. Back in 1998 they lost to Chelsea FC with 0:1, and in 2000 Galatasaray were the stronger team and made a 2:1 after over time. The last and only win, as already mentioned, happened in 2002 with a 3:1 win over Feyenoord. All these games occurred in Monaco at the Stade Louis II. It will be a special game for Gareth Bale who was born in Cardiff and who will be motivated to win this title at home. Against FC Sevilla, Madrid was able to win 90 times in 172 meetings. Loosing only 53 times.
It was a very successful last year for the FC Sevilla. At the Primera Division they were able to capture a good fifth position and to qualify for the Euro League again. How it feels to win the Euro League trophy, is nothing strange to them. As they won the final against Benfica Lissabon in the last season 2013/14. After a hard way into the final the penalty shootout was needed to find a winner. And Sevilla were the stronger team back then, as they won with 4:2. This victory also meant a ticket for the Super cup final 2014. Just as Real Madrid – Sevilla was able to win the Super cup once. This happened in 2006 when they beat the FC Barcelona with 3:0. The following year they were also in the final, but this time lost 1:3 against AC Milan. Milans manager back then was Madrids current manager Carlo Ancelotti. In ten European meetings with Spanish opponents, Sevilla only managed to win three times, they lost four times and drew three times. In addition, manager Unai Emery was already playing 13 times against Real Madrid with three different teams, and his teams only won three times and lost nine times.
Probable lineups:
Real Madrid: Casillas – Carvajal, Pepe, S.Ramos, Marcelo – Modric, T.Kroos – Bale, J.Rodriguez, C.Ronaldo – Benzema.
FC Sevilla: Beto – Figueiras, Fazio, Carrico, Navarro – Iborra, KRYCHOWIAK – Vitolo, D.Suarez – Aspas, Bacca.