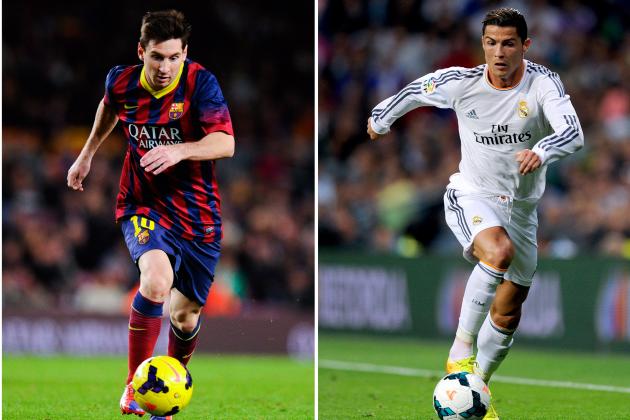 Real Madrid vs Barcelona
Competition: Spanish Primera Division, Matchday 9
Match date: 25 October 2014
Kick Off Time: 17:00 BST
Venue: Estadio Santiago Bernabéu, Madrid, Spain
Real Madrid appear unstoppable at the moment, ripping through their opposition in their last 8 matches in all competitions, claiming multiple-goal victories on 7 of those occasions. During this 8-game span, Los Blancos have outscored their opponents with 35 scored and just 5 conceded. 16 of those 35 goals have come from fully-fit superstar Cristiano Ronaldo, who was at it again over the midweek in their trip to Liverpool, as the Portuguese hit-man scored the go-ahead goal and his first ever at Anfield in a comfortable 3:0 victory. Now manager Carlo Ancelotti and his seasoned troops will defend their home fortress against their arch-nemesis, FC Barcelona. The hosts were conquered last season by the Catalans at the Santiago Bernabeu, which was just 1 of 3 home defeats in Spanish Primera Division action in their last 54 fixtures, and Los Blancos will be eager exact their revenge upon their hated rivals. However, the imminent return of Luis Suarez casts doubt over the host's chances, although they should at the least avoid defeat here on Saturday.
FC Barcelona team have also torn through their opponents in the early going of the season, having picked up maximum points in 7 of their 8 league matches. This form has propelled them into a familiar spot atop the Spanish Primera Division table, and they have a great opportunity to extend their 4-point lead on Real Madrid even further when they travel to the nation's capital. Their last trip to the Santiago Bernabeu ended in victory for the visitors, as pint-sized magician Messi bagged a hat-trick and provided an assist in a thrilling 4:3 encounter. The Argentine is back to his old bag of tricks this season as well and he will be looked to as the leader of their new tripod attack force that includes himself, Neymar, and Luis Suarez. The Brazilian is in scintillating form and can't seem to stop scoring at the moment, while the controversial Uruguayan is set to make his return to action after seeing his lengthy suspension come to an end. Whether he starts or not remains to be seen, but barring a FC Barcelona blowout, he should at least be making his competitive debut for his new club. The embattled striker's return only serves to add further intrigue to what has become arguably the biggest rivalry in all of sports – the El Clasico.
Real Madrid last 5 matches:
27/09/14 Villarreal 0 – 2 Real Madrid
01/10/14 Ludogorets 1 – 2 Real Madrid
05/10/14 Real Madrid 5 – 0 Athletic Club
18/10/14 Levante 0 – 5 Real Madrid
22/10/14 Liverpool 0 – 3 Real Madrid
Barcelona last 5 matches:
27/09/14 Barcelona 6 – 0 Granada
30/09/14 PSG 3 – 2 Barcelona
04/10/14 Rayo Vallecano 0 – 2 Barcelona
18/10/14 Barcelona 3 – 0 Eibar
21/10/14 Barcelona 3 – 1 Ajax