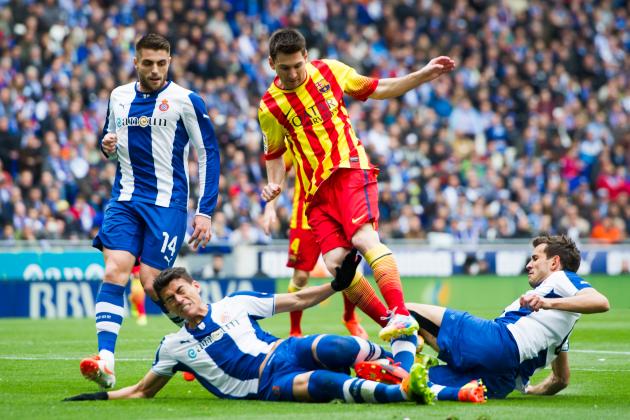 Espanyol vs FC Barcelona - Competition: Spanish Primera Division

Espanyol team the small brother of FC Barcelona. Yet again they have a decent season as they don't have to fear to drop out of La Liga. 10 points deficit to FC Villareal (6th place, qualification for UEL) are a lot if we take into account that there are only 6 matches remaining. Therefore, a lack of motivation and goals might uprise. Of course, the derby brings a lot of passion, but in the back of their minds, the players might not give all they got and already expect defeat. Needless to say, the quality of Espanyol is nowhere close to FC Barcelona, but a lot of hope rests on the shoulders of Sergio Garcia, the best scorer of the team. Also, they are unbeaten for 6 matches including a tie at home against Atlético Madrid and wins against Athletic Bilbao and Villareal. If they could remain unbeaten in this derby as well, the fans would be very happy. Further their La Liga home record of 8-5-3 (7th best) is an argument for them.
Barcelona proved their strength with the 2:0 home win against PSG, which was not even necessary after their 3:1 win on the road. Still the fans could enjoy Iniesta and Neymar (scored twice) who played amazingly. The fact that Iniesta played that well, gives them one more alternative in midfield. In the last 13 games, they remained unbeaten and won 12 times. Luis Enrique can be happy and thankful to call Luis Suarez, Lionel Messi and Neymar his strikers – they might be the best attack in the world right now. Two La Liga games ago, they only tied 2:2 with Sevilla on the road – they should be aware that one more mistake could be enough for Real Madrid to surpass them! The great UCL win and the best league away record of 11-3-2 are strong arguments for us to believe in their win.
Espanyol last 5 matches:
22/03/15 Deportivo 0 – 0 Espanyol
06/04/15 Espanyol 1 – 1 Elche
09/04/15 Villarreal 0 – 3 Espanyol
12/04/15 Espanyol 1 – 0 Athletic Club
17/04/15 Levante 2 – 2 Espanyol
Barcelona last 5 matches:
08/04/15 Barcelona 4 – 0 Almería
11/04/15 Sevilla 2 – 2 FC Barcelona
15/04/15 PSG 1 – 3 Barcelona
18/04/15 Barcelona 2 – 0 Valencia
21/04/15 FC Barcelona 2 – 0 PSG
Match date: 25 April 2015
Kick Off Time: 15:00 BST
Venue: Power8 Stadium, Cornella de Llobregat